(And why do I need to back up my Dropbox account?)
What is Dropbox?
Dropbox is a cloud storage service that enables organisations and individuals to perform file sharing, backups and collaboration. Dropbox lets you access your stuff from any location and makes it easy to share with others.
Why do I need to backup Dropbox?
Dropbox provides 120 days of versioning for business plans and 180 days for individual plans. Beyond this point, any data removed or altered will not be recoverable. If your business retains critical data in Dropbox, a dedicated backup & archive is your guarantee against
data loss.
How does Probax integrate with Dropbox?
Probax integrates with Dropbox by adding backup, archival and disaster recovery capabilities. Data transfer is automatic from Dropbox to our Probax data centers, without any requirement to upload data from the client site itself.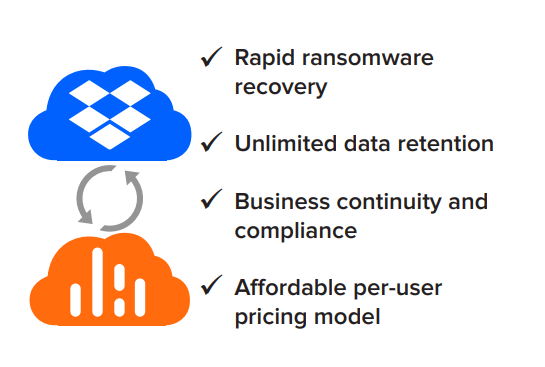 Does Probax Backup Team and Member Data?
We do! Team Data refers to data that is stored inside Dropbox Team folders. This will always be backed up when using Backup for Dropbox Business.
Member Data refers to data that resides in the Dropbox Business account, but not inside Team folders. This could be files that only a specific team member has access to, or files that this member has shared with other members.
Which Dropbox plans does Probax integrate with?
Probax integrates with both Dropbox Business and Dropbox for personal users. The installation process is identical.
Our integration with Dropbox Business allows an entire organisation's worth of data to be backed up from a single pane of glass view, providing a secure and rapidly deployed option for backups.
Download the Dropbox product sheet
-
For technical support questions, please contact support@probax.io
For sales and product information, contact your Partner Manager.